Wednesday's Bunny Hop Party.
I LOVE Autumn! Don't YOU?
I think it is all the warm and cozy colors.
Not to mention all the yummy food!
Last week's party was full of colors
and I want to share three of my favorites in
in no particular order.
My Favorite Picks!
The Front Porch… Autumn Style @
Country Glamour Home
Don't Forget ...
If you were featured this week…
be sure to get your button!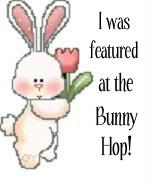 Just copy the code and put in your sidebar.
(How to make or take a button home)
There were a lot of lovely entries for last week's party.
I am concerned that
that very few of you visited the other posts!
(it is obvious from my administrative inlinkz stats)
This party is a small party in comparison to the parties with 200- 500 entries. It is meant to be small… By limiting this party to newish bloggers I was hoping to enable you to make connections to other new bloggers.
Like making our "own group"
of blogging buddies.
Yes, I do understand that some of you are linking up to over a dozen parties… and I thank you for taking time to link up to mine. But I hate that I, as with many party hosts, am now having to set the linky up so that you can not join without a required link back to the party.
Are you really in that big of rush?
Oh, and there's more...
Please don't just "link and run".
I really don't mean to lecture you, but I believe that blogging is a give and take process. If you want someone to look at your blog, then go visit theirs. It is also nice to leave a comment when you like something…
if you have the time.
I bet you like comments!
Established blogs with thousands of followers are great to look at. BUT… they will very rarely visit back, comment or "follow" you. They simply do not have time. They do however keep in touch with a lot of their original followers.
Out of just over 30 entries last week, only three (3) of you
left a thank you for my efforts.
I don't expect everyone to comment,
but that is WAY down from the previous weeks.
Why is that?
I have removed those (3) comments from view so as not to
directly point any fingers at the 28 others who did not .
And no, those (3) who left me a kind comment were
not necessarily
the three post that I featured.
Don't you like me anymore?
Just kidding... sort of. But I am still visiting all of you!
Hence that is why I feel a bit unappreciated
when I don't
even get a simple thank you.
After all... hosting a party does take considerable time.
I must add that one or two of you
may have
thanked me in a private e-mail and
I thank you for that :]
PS.
If I offended any of you I am sorry. I know that some of you believe in "blogging without obligation". Yes, you are free to lurk all you want on as many blogs as you want. Just be polite when someone is offering you a platform to share your blog with others.
PPS.
I also know that by Wednesday that many post may have already been seen somewhere else, and that late comers may not get as many. But quite a few got just one viewing this week!
I just want everyone to understand that the connections they make with new bloggers now will only help them in the future.
xoxo Bunny Jean