The Bunny Hop Is Back!
I took off last week and I
really
missed
all
of
you
SOOO much! I want to thank you
for all the sweet comments. xoxo
Christine @
Christine's Home and Travel Adventures
Chair Makeover @ For The Love Of White
Here is a button to take home if you were featured.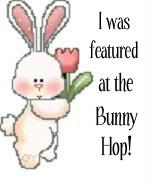 Thanks to all of you who participated last time.
I hope you all enjoyed visiting at
least
a few
of the other parties.
Remember we all love to get comments!
NOW LETS GET HOPPING!
Sorry that the party was delayed...
there was an issue with the linky program.